With the popularity of Mad Men and HGTV, it's no surprise that the mid-century modern era is having a revival. But just what is mid-century modern furniture and what does it look like?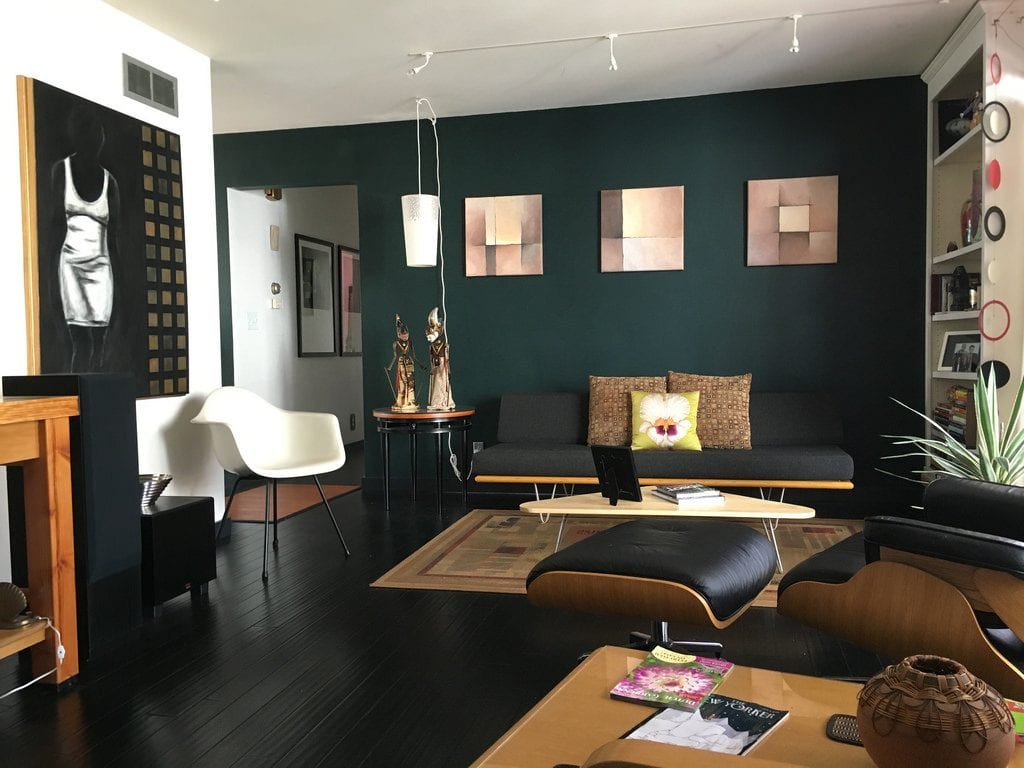 What is Mid-Century Modern Furniture?
In short, mid-century modern furniture refers to the style that was popularized during and around the 1950s, which often emphasized simplicity, functionality, and comfort.
This is, of course, an oversimplification, but a proper definition is hard to come by.
In many ways, the style of the era is hard to define. In essence, it revolved around a core set of principles more than it did around design motifs. And these principles were a reflection of the era.
Please note, we may earn commissions from our partners related to links on this page. This allows us to provide more quality content without an additional cost to you.
The Mid-Century Era
As soldiers came home from WWII, they returned to one of the greatest economic booms in American history. The newfound affluence of the middle class meant that more people were building homes — and filling them with furniture.
These homes tended to be smaller and less formal than the homes from previous styles. Rather than reserving each room for a particular occasion, there was a focus on using rooms many times throughout the day. With these realities in mind, the furniture of the era was designed to be smaller and simpler to fit the space, while also serving multiple functions.
Designers of the era were able to leverage wartime technological advancements in creating their pieces. For example, the technology for molding plywood, fiberglass, and plastic enabled pieces like Charles & Ray Eames' 670 lounge chair and LCW chair. These technologies also allowed designers to experiment with the shape of furniture to improve comfort — creating "ergonomic" pieces long before it was a buzzword.
Though maintaining these principles of simplicity, functionality, and comfortability, designers of the era were able to express their creativity in a wide range of looks and styles.
Three Styles of Mid-Century Modern Furniture
The styles of the mid-century era can be notoriously difficult to classify. While certain motifs were common, such as clean lines or parabolic shapes, creativity was greatly prized. As such, many designs were almost completely novel.
Cara Greenberg, author of "Mid-Century Modern" (1984), proposes three "looks" that most pieces of the era fall into. These looks are not rigid groups, and some pieces fall into multiple categories. In any event, her system is a useful roadmap for identifying and appreciating pieces of the era.
Biomorphic Look
Powered by new manufacturing capabilities developed during the war, designers began to experiment with lively and creative designs. Many of these fell under the categorization as "biomorphic", and some of the most memorable designs of the era belong to this style.
Defined as being suggestive of a living organism, the biomorphic look was fundamentally modern. These pieces generally focused on asymmetry and featured irregular curvatures.
Some classic designs of this style include Isamu Noguchi's classic coffee table as well as the swan chair and egg chair by Arne Jacobsen.
Machine Look
In addition to the biomorphic looks that became popular in the era were those that flaunted their machine origin. Rather than imitate a handcrafted look, these pieces celebrated their industrial nature.
Classics of this style include Harry Bertoia's diamond chair and wire chairs as well George Nelson's platform bench.
Handcrafted Look
Pieces of the handcrafted style appear as if they were the one-of-a-kind work of a skilled craftsman. They make great use of warm natural woods and woven seating, all while remaining remarkably sturdy and comfortable.
True to the era, many of these "handcrafted" pieces were actually built with significant help from high-tech machinery. This enabled mass-production, and thus affordability.
This look became very popular among the Scandinavian designers of the era, as they sought the warm and cozy feel of wooden furniture for their cold northern winters.
The Danish Hans J. Wegner had several exemplary pieces in this style, including the wishbone chair and the round chair.
Another Dane, Finn Juhl, also produced classics of this look, notably the chieftain chair and the 45 chair
How to Find Mid-Century Modern Furniture Today
Given the popularity of mid-century designs, it's no surprise that demand is also quite robust.

Vintage pieces from the era can easily fetch four or five figures at auction on sites like eBay or 1stdibs.
Additionally, there are several retailers who offer new productions of classic designs. These pieces represent excellent quality and authenticity. For example, Office Designs offers a huge selection of Herman Miller products, including classics like the Eames Lounge Chair.
For a broad selection of classic pieces, we recommend Eternity Modern. Their catalog is full of reproductions that are identical to the originals, meaning high-quality at affordable prices.
Finally, an option you might not have considered: Amazon. The internet retailer giant features an incredible selection of mid-century classics at every price point.