Finding where to buy mid-century modern furniture can be a daunting challenge at first. We've compiled this comprehensive list to help you find exactly what you want.
Finding where to buy mid-century modern furniture can seem like a daunting challenge at first.
Luckily, the rise in popularity of the style has led to an explosion in ways to buy its pieces.
These range from hidden treasures at flea markets, to made-to-order pieces designed by skilled craftsmen, to high-quality reproductions at affordable prices, and many more.
With all these options, it can be difficult to figure out what's right for you.
To help you out, we've compiled an exhaustive list of all the best places to buy mid-century modern furniture. In this post, we will help you figure out what you're looking for and where to find it.
If you make a purchase from any of the links on this page, we may receive an affiliate commission. This allows us to provide more great content at no extra cost to you!
Where to Buy Mid-Century Modern Furniture
All of the mid mod furniture available for sale today essentially falls into one of four categories: Vintage, Current Productions, Custom & Handmade, or Reproductions & Replicas. None is intrinsically better than the others, rather they each have their own charms and drawbacks.
Reproductions & Replicas
If you want to get the mid-century modern look in your home but you can't afford vintage or handmade, reproductions and replicas are the choice for you.
These pieces are inspired by the designs of the mid mod era, but are much more affordable than vintage pieces or handcrafted ones.
While less authentic than some other options, they still capture the mid-century modern style and are quite a bit cheaper.
Amazon
Amazon is, of course, the king of all things e-commerce. Things are no different for mid-century modern furniture. They offer a tremendously broad and varied selection of MCM reproductions and replicas.
Plus, you can take advantage of free shipping if you have a Prime account. That can be hugely valuable when shipping bulky pieces of furniture.
Amazon offers a solid collection of mid-century modern pieces, like this Saarinen-inspired tulip table.
Eternity Modern
If you're looking for the cost-saving benefits of reproductions but you aren't willing to compromise on quality, Eternity Modern is the way to go.
Eternity modern offers an incredible selection of high-quality reproductions.
Notably, they offer an Eames Lounge Chair and Ottoman* set for several thousand dollars cheaper than the original.
*Eternity Modern is currently sold out of the Eames Lounge Chair but you can order a high-quality, comparable chair on Amazon here.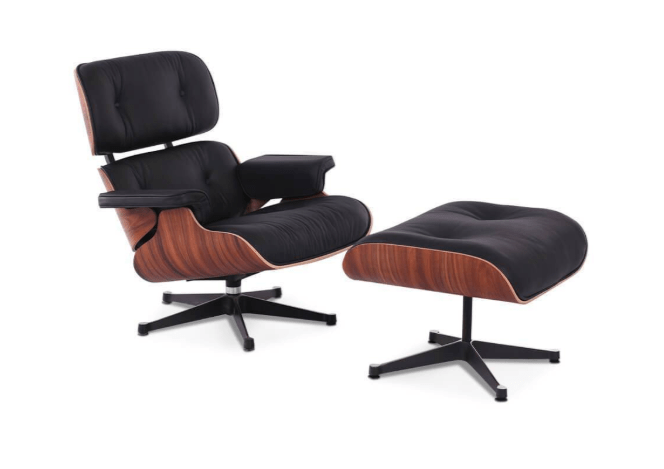 They also offer a wide variety of other essential MCM pieces, like this sharp Noguchi Table reproduction.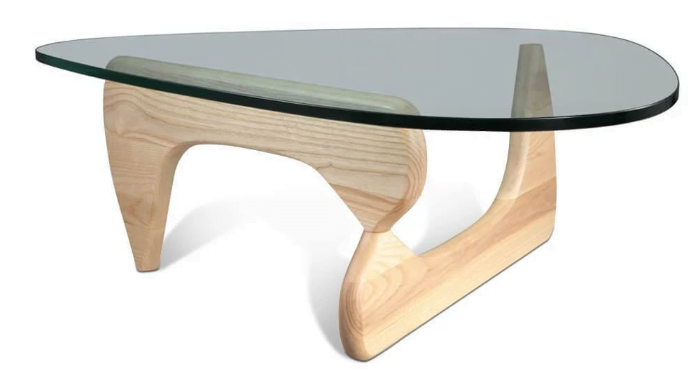 LexMod
LexMod is well-known supplier of economical mid-century modern furniture pieces. Since everything that LexMod offers is directly sourced and sold by them, there is no middleman needlessly marking up the prices.
Their catalog is huge and includes fine pieces for every room in your house. If you're looking for some dining chairs, they offer these awesome ghost-style chairs at an affordable price.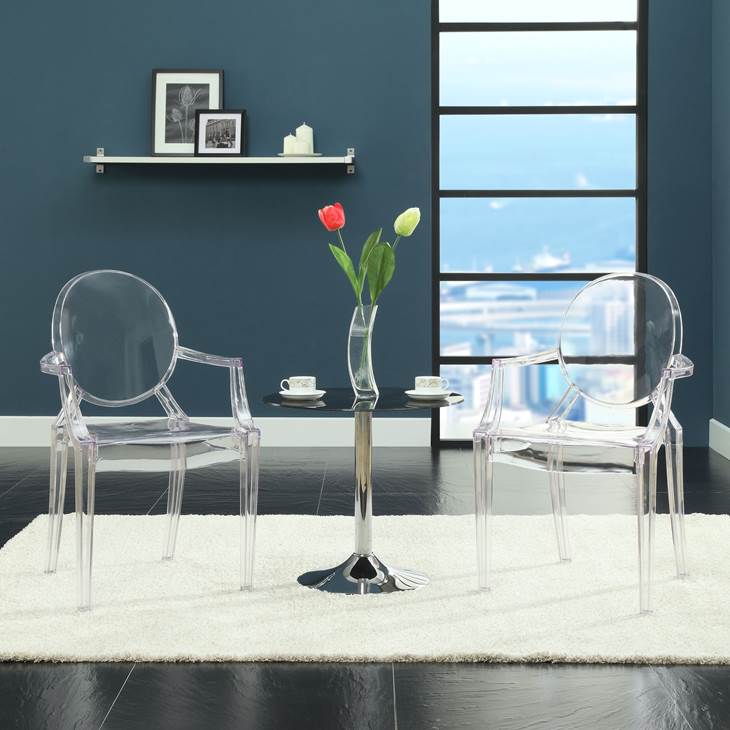 Casa Gear
Casagear is gaining popularity for mid-century modern furniture as they offer a wide variety of products. You will find on Casa Gear that there are hundreds of mid-century modern furniture reproductions available for purchase. Some of these products being from very popular manufactures and designers of mid-century modern furniture. As far as pricing goes Casa Gear, has very affordable prices. You might be able to score cheap mid-century modern furniture here as they are always having sales and adding products. This site is at least worth a quick browse since it does have some quality, affordable, and stylish mid century modern furniture.
You can see all Mid-Century Modern Furniture for sale on Casa Gear by clicking this link here.
Vintage
These are authentic pieces that were actually made during the mid-century era (roughly the 1940s to the 1960s, depending on who you ask). These antiques are the ultimate in authenticity, and they are highly prized by collectors and mid-century modern enthusiasts.
With this in mind, they are usually quite expensive. These pieces often change hands for prices in the 4- and 5-figures.
Vintage pieces make the most sense for true enthusiasts, unless you're lucky enough to find an under-priced gem somewhere.
Here are our favorite places to find vintage mid-century modern furniture.
1st Dibs
1st Dibs is our first choice for finding vintage mid mod furniture online. This site offers a phenomenal collection of mid-century modern and other classics. The sellers on 1st Dibs are almost all top-tier dealers.
There are a lot of classics to be found, like these original Warren Platner chairs.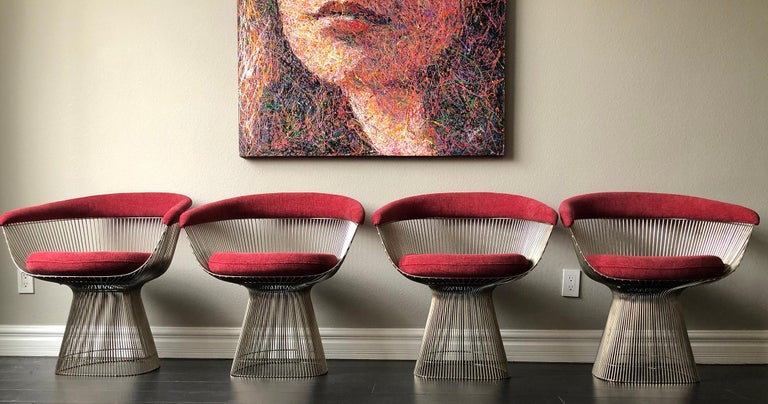 As 1st Dibs only includes only the finest and rarest pieces, prices are often quite steep. These classic chairs were originally listed at $11,500. We recommend try to negotiate with dealers before settling for the listing price.
eBay
That's right, eBay is a great place to find vintage mid-century modern furniture. It can take some time to navigate through the junk, but occasionally you can find some real gems. For example, here is an original Jeanneret chair:

While this example is quite pricey, you can also find originals at much more approachable prices. For instance, it's not difficult to find an original Eames DAW chair for several hundred dollars.
EBTH
If you aren't familiar with EBTH ("Everything but the House"), you should check it out. It's an online estate sale marketplace. Its products are sold via an online auction (think old-school eBay), and everything starts at $1.
Here are some cool Eames-style DSR chairs with patchwork upholstery and eiffel-style legs.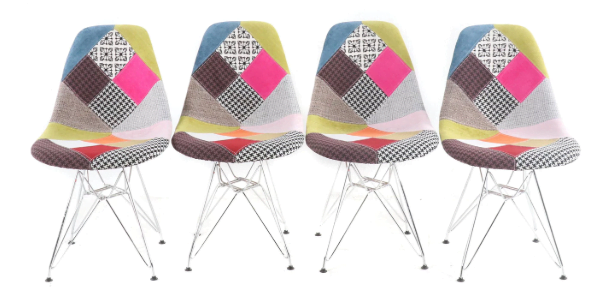 As new listings go live almost every day, be sure to check back often.
Also, shipping can be quite expensive, so be sure to factor that into your bidding. Local pickup is generally an option as well.
Chairish
Chairish is an online marketplace that showcases a curated selection of vintage and vintage-inspired home decor.
Their mid-century modern selection is fairly extensive with a wide range of vintage pieces, like this Bertoia Bird Chair.
Flea Markets
Flea markets can be a great place to find vintage mid-century pieces, but they can often be quite hit-or-miss.
I would only recommend visiting flea markets if you are already quite educated in the mid-century modern space and can identify authentic pieces with ease. Otherwise, it can be difficult to pick apart the junk from the gems.
Estate Sales
In addition to EBTH, old-school in-person estate sales can be a great place to find furniture.
To find these, try your local newspaper, Craigslist.org, estatesale.com, and estatesales.net.
Most estate sales are on Fridays or Saturdays, while some are active on both days. Agents will often add more pictures to their listing in the days before the sale, so take a look on Wednesday or Thursday to find which sales might be most interesting to you.
Current Productions
Many of the companies that made the most famous pieces from the mid-century era are still producing those same designs today.
These pieces are very authentic and true to their original design. Additionally, they are produced with top-tier quality.
This combination of quality and authenticity comes at a price, though, as many of these pieces are quite expensive.
Here are the best place to find current productions of mid-century modern classics.
Herman Miller
Based in the modest Zeeland, Michigan, Herman Miller has always been one of the biggest names in mid-century modern furniture manufacturing.
Still today, the company produces the works of some of the most notable designers of the era, including Charles & Ray Eames, George Nelson, and Isamu Noguchi.
Notably, Herman Miller still produces the classic Eames Lounge Chair. You can see how they are made below.
Knoll
The other big, American manufacturer of the era was of course Knoll.
Like Herman Miller, Knoll still produces the works of many great designers, including Florence Knoll, Harry Bertoia, and Eero Saarinen.
For example, Knoll still offers these gorgeous Tulip Chairs and the Saarinen Table.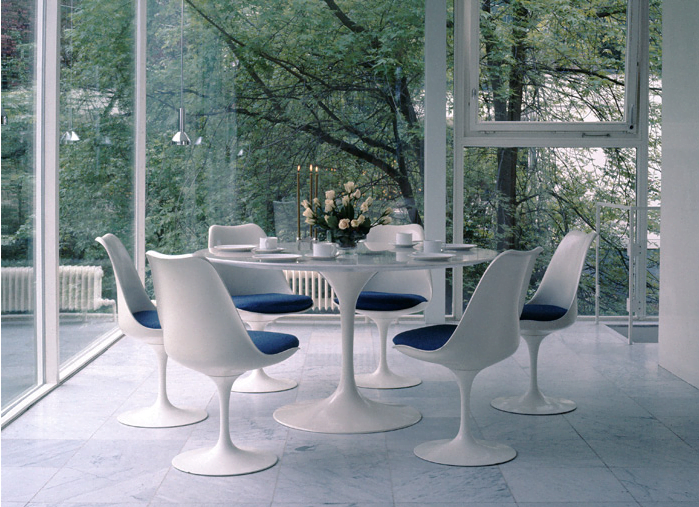 Vitra
Based in Switzerland, Vitra got its start producing the designs of Herman Miller for the European market. The company would go on to feature original designs from some great European designers, including Verner Panton and Jean Prouve.
Vitra still produces the unmistakable Panton S-Chair.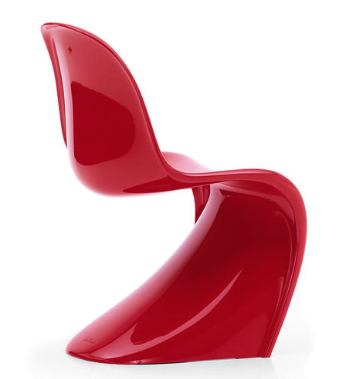 Danish Design Store
If you fancy the Danish modern style, then the Danish Design Store is the place for you. This site features the work of great manufactures such as Fritz Hansen and Carl Hansen & Son, which produce the designs of legends such as Hans J. Wegner, Arne Jacobsen, and Finn Juhl.
Design Within Reach
While the name might be slightly misleading, the quality of Design Within Reach is indisputable.
As a retailer with locations across the nation, DWR gives you a chance to see and touch the classics in person before making a purchase. DWR offers newly made pieces from all of the great manufacturers mentioned above, among numerous others.
If you want to test the classics in person, try finding a DWR studio near you.
Custom & Handmade
Though it was a key goal of the mid-century movement to make high-quality furniture available to the masses, many of the most famous pieces felt as if they were crafted by hand.
Today, there are quite a few special shops that focus on creating handcrafted and made-to-order pieces inspired by the mid-century era.
Given their quality, some of these pieces can be quite expensive. However, most of these pieces represent a great value.
TD Furniture
TD Furniture is a Los Angeles-based workshop that specializes in making custom couches, lounge chairs, and other pieces in a mid-century modern style.
Many of their sofas are truly exceptional, like this Adrian Pearsall-style piece.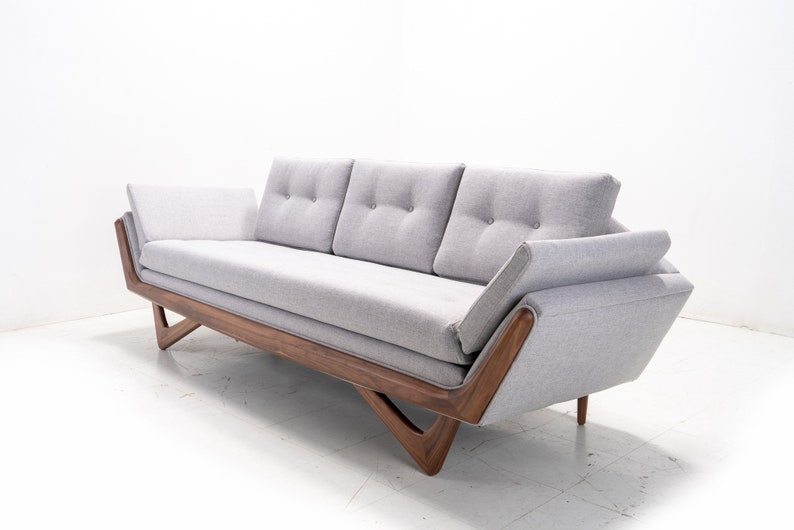 TY Fine Furniture
Based in Columbus, Ohio, TY Fine Furniture specializes in handmade, eco-friendly furniture. If you are wondering where to buy mid-century modern furniture this store is a great option.
Their Etsy storefront showcases their mastery in wood pieces, especially mid-century modern beds, tables, and consoles.
For example, this Scandinavian-inspired coffee table features impeccably clean lines and a minimalist flair.
Tusk and Tail Design
Another handmade furniture designer with a prominent presence on Etsy, Tusk and Tail Design specializes in wooden mid-century modern pieces.
Their Warwick Sideboard is a great display of their craftsmanship.