Mid-Century Modern (MCM) is the design revolution in graphic design, interior design, urban development and architecture that happened after the events of World War II and continued until around 1970. The midcentury modern design movement brought thousands of designers from around the world together to create new strides in the area of design. In this list, we're going to go over the ten most influential mid-century modern furniture designers and give an explanation of their history and the work they've accomplished. Here are some of the top famous mid-century modern furniture designers from around the globe.
American Mid-Century Modern Furniture Designers
Starting this list off are some of the most famous American mid-century furniture designers.
Paul Evans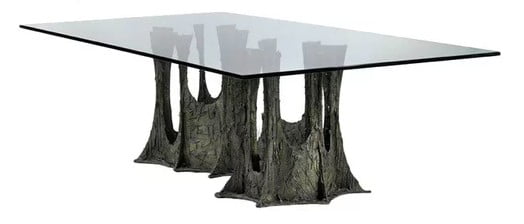 Paul Evans was born in Newtown, Pennsylvania in 1931. He attended multiple institutions for schooling including the Philadelphia Textile Institute, Rochester Institute of Technology and Cranbrook Academy of Art. In the 1950s he began making copper chests and followed by creating sculpted steel-front cabinets. In
1964 he became a signature designer with for Directional Furniture where he would introduce the Argente series, Sculpted Bronze Series, Sculptured and Painted Steel, Patchwork Copper, Pewter and Brass and the famous Cityscape Series. His works are unique in the way he combined technology with hands-on design work. He insisted that every piece be made by hand, finished by hand and supervised by the artist at every step of the production.
Charles and Ray Eames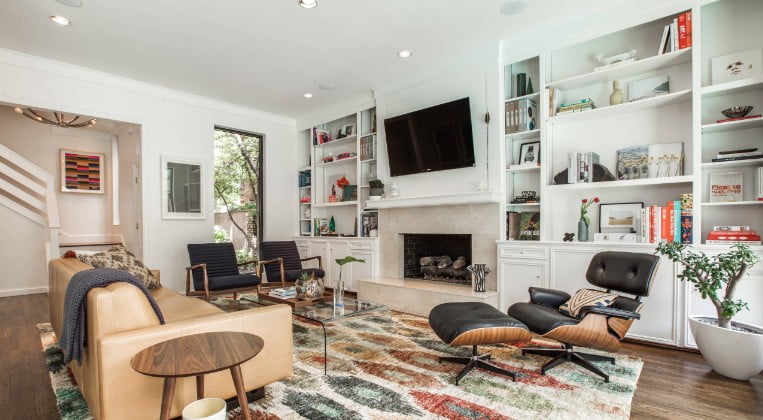 Charles and Ray Eames were a married couple that made huge developments in the area of mid-century modern furniture design and are widely accepted as two of the top mid-century modern furniture designers. Charles Ormond Eames was born in 1907 and Bernice Alexandria "Ray" Kaiser Eames was born in 1912 and the two met at the Cranbrook Academy of Art in 1940. The two opened a design office with functioned for over four decades where the two would work 13-hour days, six or seven days a week.
The Eames are famous for their work with plywood with mid-century modern furniture. Such examples are the Eames lounge chair and the Aluminum Group furniture. The two also dabbled in architecture as well as film.
Florence Knoll
Florence Knoll is famous for innovating office design, including desks, and revolutionizing office interiors by including modern design. She was born in 1917 in Saginaw, Michigan. She was an orphan with her father dying when she was only 5 and her mother dying when she was 12. She attended Cranbrook and had a strong interest for furniture design, interior design as well as architecture. She was a student of the Bauhaus movement and worked under multiple leading figures early in her career.
She was monumental for breaking gender stereotypes in furniture design. Her aesthetic is well known for clear geometries and lines with textures, colors, and organic shapes. Knoll felt that architects should be able to use their skills to create furniture that suits the environment. Knoll and her husband would found Knoll Associates which would turn into a leader in the fields of furniture and interior design. What started as a small furniture company soon grew to a million-dollar empire by the time they opened their first showroom in New York City. When her husband died in a car crash in 1955, she took over control of the three companies under which Knoll Associates controlled. In ten years she doubled the company and grew it into a global mid-century modern furniture design powerhouse. She died at the age of 101.
Danish Mid-Century Modern Furniture Designers
The mid-century modern furniture movement was not central to the United States however, the movement took the world by storm. Next are famous mid-century modern furniture designers from Denmark.
Poul Kjærholm
Born in stervrå, Denmark in 1929, Kjærholm started his work as an apprentice to a cabinet maker where he would develop a passion for mid-century modern furniture design. He would attend the Danish school of Arts and crafts in Copenhagen. He married his wife in 1953 who would go on to become a successful architect herself. He was very detail-oriented and would start an incredible career as an educator. In the mid 1950s he began to work under an entrepreneurial friend who gave him lots of artistic freedom. It was here that he would create some of his most influential works. Examples of this are his PKO minimalist plywood series and his PK61 coffee table. The PK61 coffee table would be known for its playful design of displaying the supporting frame through the glass top. In 1967, he was awarded the Danish ID Prize for his work in product design. In 1973 he would become the head of design at the Institute for Design where he would become a professor three years later.
Canadian Mid-Century Modern Furniture Designers
Lastly, we're going to mention one of our favorite famous mid-century modern furniture designers. This one hail from Canada but his works have impacted the world.
Frank Gehry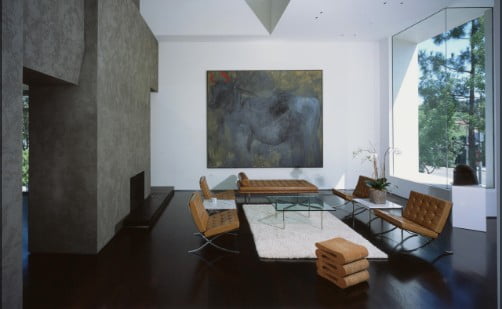 Gehry was born on February 28, 1929, in Toronto, Ontario. As a child, he would build cities using scraps of wood he found at his grandpa's hardware store. Although his father thought he was a dreamer, Gehry was pushed to design by his mother and grandmother. In 1947 his family moved to Los Angeles where he became a delivery truck driver while studying at Los Angeles City College. He would eventually graduate from the University of Southern California's School of Architecture. He studied city planning at the Harvard Graduate School of Design but left the program feeling underwhelmed and disheartened. He felt as though his left-wing ideas of about socially responsible architecture weren't being realized. His final straw came when he found out his professor was designing a palace for the Cuban right-wing dictator Fulgencio Batista. He would find work in Los Angeles and Paris and would also design his famous Santa Monica residence. He would go on to design skyscrapers in New York City, concert halls as well as museums. He is well known for his wavy patterns and somewhat psychedelic designs. He is a strong student of modernism with some saying his designs incorporate elements of funk. He resides today in Los Angeles, California.
Other Great Articles To Read